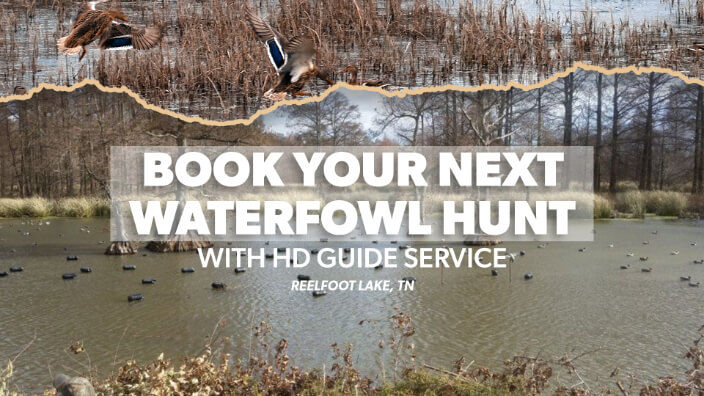 Tennessee Hunting Guide
So, here's the scenario.  You and your buddies are looking for a place to go duck hunting for a few days, you want a hunt with lots of birds, get some good shooting in, and get taken care of by some of the best guides around.  But where do you look?  It is hard to know where to find the best Tennessee hunting guide, but if you are serious about a good hunt, then look no further than HD Guide Service!
Hunting Setup
All of the hunts with HD Guide Service take place on Reelfoot Lake, located in NW Tennessee.  They have fantastic blinds, putting you right in the middle of huge flocks of ducks.  They have two blinds on the lake, and between them both, you will be on the ducks. Everything from Mallards and Teal to Wood Ducks and Gadwalls.
Cordial Hosts
HD Guide Service prides itself on being a top-tier Tennessee hunting guide, always taking care of the guests.  They provide two meals a day in the blind, along with all the drinks and snacks you want. HD Guide Service also offers comfortable lodging, included in your guide fee.  They want your stay to be relaxing and enjoyable, along with harvesting your limit in ducks!  Your guide, Hobbs has decades of experience hunting and guiding guests in pursuit of ducks.
Take the Next Step
If you are looking for the best Tennessee hunting guide that you can find, the HD Guide Service is just who you are looking for.  They will put you on the ducks, while they make you feel like the special guests that you are.  So what are you waiting for?  Give them a call today and get ready for the hunt of a lifetime!