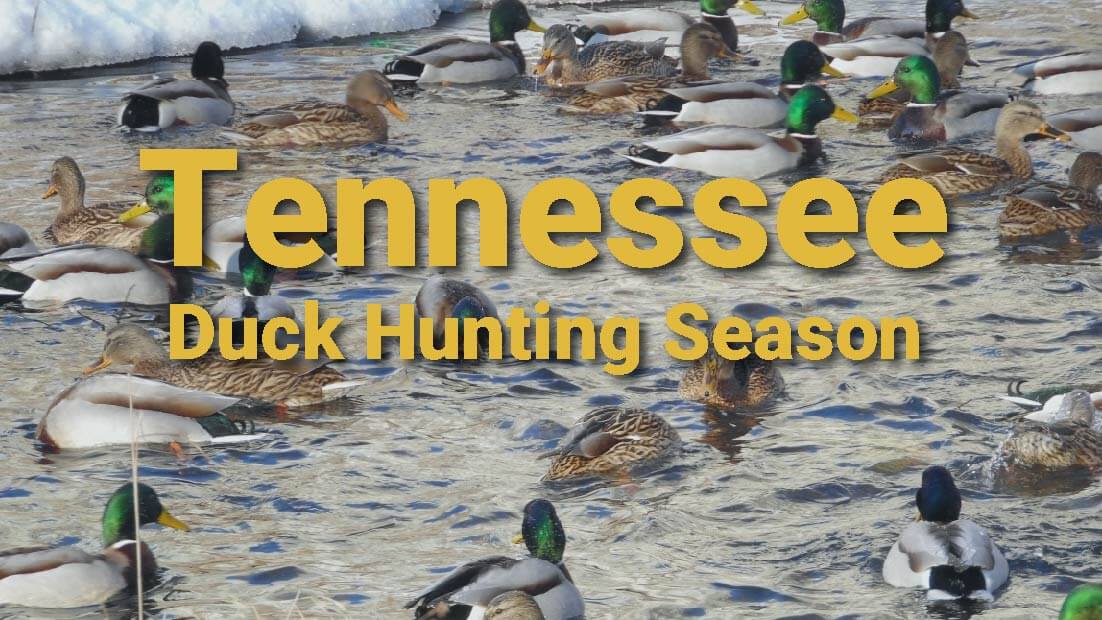 Tennessee Duck Hunting Season Breakdown
Tennessee is calling you! Depending on where you are in the state, Tennessee duck hunting is some of the best waterfowling you'll experience along the Mississippi Flyway. From mallards to pintails, when you come to the Volunteer State, you'll find a range of all your favorite ducks.
But before you do that you should understand how Tennessee waterfowl seasons and licensing work! Here's the skinny.
Tennessee Duck Hunting Seasons
Here's an easy-to-view chart of waterfowl seasons from the Tennessee Wildlife Resource Agency.
Ducks, Mergansers, and Coot

Season Opens

Season Closes

Phase 1
Nov. 26, 2022
Nov. 27, 2022
Phase 2
Dec. 5, 2022
Jan. 31, 2023
Youth Only
Feb. 4 & 11, 2023
Veterans and Military Only
Feb. 5 & 12, 2023
The daily bag limit of ducks is 6 birds/day which may include no more than 4 mallards (no more than 2 of which may be a female), 3 wood ducks, 1 pintail, 2 canvasbacks, 2 redheads, 2 black ducks, and 1 mottled duck.  The daily bag limit for scaup is 1 scaup on November 26, November 27, and December 5 through December 17 then 2 scaup from December 18 through January 31.  The daily bag limit of merganser is 5 birds/day, only 2 of which may be hooded mergansers. The daily bag limit of coots is 15 birds/day.
Species

Season Opens

Season Closes

Canada Goose, Brant, Light Geese
    Phase 1
Sep.1, 2022
Sep. 18, 2022
    Phase 2
Oct. 8, 2022
Oct. 18, 2022
    Phase 3
Nov. 26, 2022
Nov. 27, 2022
    Phase 4
Dec. 5, 2022
Feb. 12, 2022
          The daily bag limit is five (5) Canada geese, one (1) brant, and twenty (20) light geese per day in Phase 1.

          The daily bag limit is three (3) Canada geese, one (1) brant, and twenty (20) light geese per day in Phase 2, Phase 3, and Phase 4.

White-fronted Goose
Season Opens
Season Closes
    Phase 1
Nov. 26, 2022
Nov. 27, 2022
    Phase 2
Dec. 5, 2022
Feb. 12, 2023
          The daily bag limit of white-fronted geese is 3 birds/day.
Licensing
After completing hunter education, hunters 13 years and older must purchase a hunting license and Tennessee Migratory Bird Permit—residents and non-residents alike. Additionally, hunters over the age of 16 will need a Federal Duck Stamp.
Senior hunters 65 and older may qualify for a reduced-fee Citizen Hunt/Fish/Trap License or the Permanent Senior Hunt/Fish/Trap License.
Disabled hunters are eligible for specialty licenses. Hunters that are partially or fully confined to a wheelchair can apply for special zones and blinds in certain WMAs that are wheelchair accessible.
Active military who are stationed in Tennessee can purchase a resident hunting license. Also, if you're from Tennessee, but stationed in another state you are not required to have a hunting license while on leave. Resident veterans who are 30% disabled by reason of war service or 100% service-connected disabled may be eligible for the Permanent DAV Hunting and Fishing License.
What You'll Need on the Hunt
With licenses, stamps, and tags in hand you're ready to head out! You may be wondering what you'll need for the hunt. Like any hunting there's a ton of gear that you could have.
Here's a list for the budget-minded hunter:
Shotgun – 12- or 20-gauge shotguns are the most popular. Shotguns must either be plugged or only have a capacity of 3 shells.
Shells – Only non-toxic shot of size T or smaller
Decoys and jerk string
Camo, facemask, and waders with pockets, shell loops, and D-rings. Neoprene waders are warm but can tear easily. So, be aware of thorns and climbing in boats or around equipment that will wear on the material.
Brush cutters for walk-in or hunters that boat in
Blind – Brushed-in boat, layout blind, whatever is suitable to the type of hunting you'll be doing
Flashlight and/or headlamp with extra batteries
Hand warmers
Personal Flotation Device (PFDs)
Snacks and lots of them!
Multi-tool and/or knife
GPS or hunting app
First aid kit
Another option is to forgo the cost of decoy spreads, boats, and the need to call ducks by hiring HD Guide Service. This can be especially helpful if this is your first duck hunt! We guide on Reelfoot Lake, one of the top waterfowl hunting areas in the state. We provide the decoys, hunting areas, and we do the calling for you!
If you're interested in booking a hunt, feel free to contact us and we can chat about our services and what you can expect from an HD Guide Service hunt.