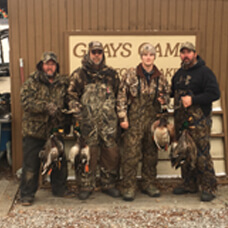 Bucket List Hunt!
Erik McCormick Antioch, IL
The idea of hunting reel foot lake has always been a bucket list plan since I was a young hunter. I remember growing up and reading all the articles of the elaborate duck blinds and the abundance of ducks making for fun hunts and great memories. Later in my years of meeting people and hunting I was given the opportunity to go down to reel foot lake and hunt. I did not even think twice about going and it turned out to be one of the best decisions that I have made. I was introduced to Bradley Hobbs and Ricky Joe Davis of HD guide service who are two world class gentleman that make you feel at home and will help you in any way that they can. The hunting is top notch along with the food and great stories, I have been coming down for a hand full of years and have never left without thinking about coming back the following year. It is truly a great experience for all ages who enjoys to duck hunt.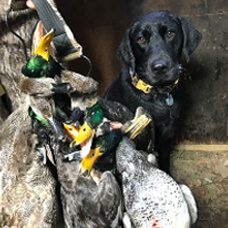 Return Every Year!
Bob Sherwood Linderhurst, IL
I've been hunting with Rick and Brad from HD Guide Services since they began guiding on Reelfoot Lake, I hunt with them every year. They have great blinds and boats, you have to go to Reelfoot for a boat ride through the ditches. They do know how to call ducks and they serve tasty food in the blind. The blinds and blind locations are also special. Their dogs are very capable of getting the job done. I have been hunting with them on some big number days, also been there on slow days but have had a wonderful time every day I've sat in the blind with them and I think you will also.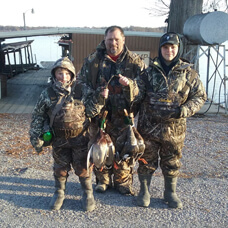 Like Family!
Thomas Smith Chuckley, TN
Hunting with you all has been amazing, from setting us up with rooms, to recommending where to eat, to checking on us when we first got there. All that was nice, but the thing that really gets me is the way you treated us from the minute we stepped into that boat and headed to the blind. We were not just a number. You treated my boys like they were yours, like family, putting them first whether it was shooting or eating (and these boys can eat) and the food was great. When the hunting was slow, we had fun laughing and eating.