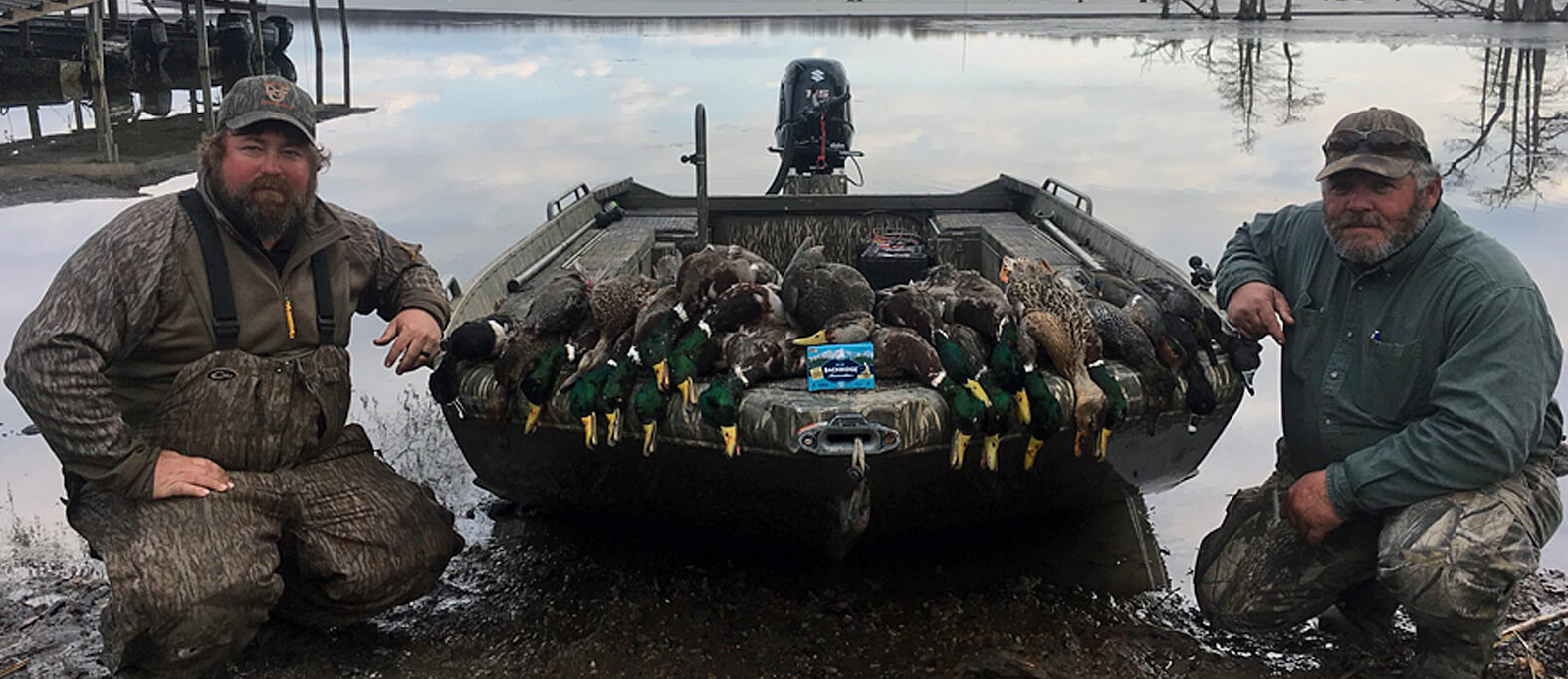 Duck Hunting Reelfoot Lake – 3 Reasons Why!
HD Guide Service brings years of experience duck hunting Reelfoot Lake that beats out all other competition in Tennessee! Wondering how this could be? Check out the top 3 reasons why you should book a trip with HD Guide Service today!
Professional Guides
When you book a trip to our location in Northwest Tennessee – you are booking a hunt with professional guides! With years of experience in the outdoors, you are in the best hands when booking to hunt with our avid outdoorsmen.
Bradley Hobbs
A longtime lover of the outdoors, Brad Hobbs has a whopping 25 years of experience to share with you. Growing up hunting along the Obion River in West Tennessee with his family, he also spent a large amount of time hunting in the rice fields of Missouri. Five years ago, he began lending a hand guiding and duck hunting Reelfoot Lake as a favor to a friend. This ultimately led to him falling in love with the lake and eventually beginning a partnership with his father-in-law. From there, HD Guide Service was born.  The rest, as they say, is history. When duck season isn't in full swing, you are likely to find Brad fishing on a lake somewhere or getting some quality time in with his family!
Rick Davis
With an impressive 40 years of duck hunting experience, Rick Davis is certainly a guy you want to get in touch with! His experience varies from West Tennessee river bottom, rice fields in Missouri, and the flooded timber in Arkansas. Now, you can find him amongst the breathtaking cypress trees that you will find at Reelfoot Lake. With his son-in-law, he is living out his dream job guiding with HD Guide Service. Striving to offer a high-level environment, Rick wants to ensure that each visitor leaves with memories of the best hunting experience that West Tennessee has to offer.
Unbeatable Rates and Variety
With HD Guide Service you have two fantastic options of blinds to choose from in beautiful Northwest Tennessee. Both based on a single-day rate, you have both the Buck Brush Blind and the Timber Hole Blind to choose from. On a hunt, HD Guide Service provides you with meals twice a day in the blind, and all the drinks and snacks. Beginning at daylight, the hunt generally goes until 3:00 PM. The provided lodging ranges from hotel rooms including a kitchenette area, to a full house. This all depends on what size the group you book with is and availability!
For either blind, $225.00 per person, per day, gets you:
One night's lodging.
Two meals in the duck blind
Other local restaurants and amenities for anything else you may need
The Buck Brush Blind
The Buck Brush Blind has plenty of room for 10 hunters! Coming with heat and a full kitchen, this is an ideal way to spend your hunt. You can have plenty of comfort right along with plenty of waterfowl! Typically, in this blind you will kill the following species: Mallards, Wood Ducks, Green-Wing Teal, Gadwalls, Shovelers, Pintail, and Specklebelly Geese.
The Timber Hole Blind
With the capability to comfortably host up to 10 hunters, the Timber Hole Blind comes with a full kitchen and heat. This beautiful setting is perfect for a morning packed with back pedaling and locked up Mallards. The sunrises are an unbeatable plus, too! Typically, in this blind you will kill the following species: Mallards, Wood Ducks, Green-Wing Teal, and Gadwalls.
Rich History and a Memorable View
Reelfoot Lake is a crowd-pleaser – that is no doubt! It draws tourists from every inch of the nation to Lake County. The assessment of farmlands is higher than any other in the state, and the county maintains the highest percentage of tillable land out of any other county. Lake County is the only county in Tennessee that grows alfalfa in any discernible amount and provides more cotton per capita than any county. This county certainly stands out as you won't find a native hill, rock, or running rill within its borders. The beauty spot, Reelfoot Lake lies here, attracting admiration across the entire nation. A memorable land of indulgence for the photographer, the naturalists, the hunter, and the angler alike, you don't want to miss out on the chance to view this beauty up close and personal.
Whether you are joining us at HD Guide Service to participate in duck hunting at Reelfoot Lake with our professional guides, or just to have a weekend away, there is something for everyone. So, what are you waiting for? Contact us today to book your trip!